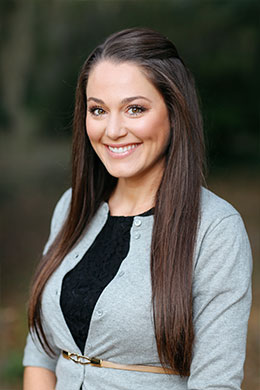 Dr. Jessica M. Gower is a native of Columbia, South Carolina and remained in the area to receive her Bachelor of Science Degree from University of South Carolina. She is a 2011 graduate of the prestigious Medical University of South Carolina's College of Dental Medicine in Charleston, SC.
Dr. Gower was awarded the SCDA Student Scholarship Award in 2010 and in 2011 the Eleanor J. Bushee Senior Student Award, some of the highest honors an MUSC graduate can receive.
Dr. Gower belongs to numerous Dental Associations:
• American Dental Association
• South Carolina Dental Association
• American and NC Academies of General Dentistry
• North Carolina Dental Society
• Coastal Carolina Dental Society
• MUSC Dental Alumni Association- serves as a Board Member
• American Dental Political Action Committee
• Dental Political Action Committee
• Delta Sigma Delta Dental Fraternity
• Coastal District Dental Society
• Bluffton Rotary International
Dr. Gower continues to learn new techniques as well as incorporate the latest technology into her practice with state of the art equipment as well as a systemic approach to overall health. She attempts to bring her multi-faceted knowledge of aesthetics, proportion, and general appreciation for beauty to every dental procedure she performs to give the patient a beautiful, strong, and healthy smile.
Dr. Gower has practiced General Family Dentistry in Jacksonville, NC since 2011 and is married to Dr. Emerson Gower, III who is also a general dentist in the United States Navy recently restationed from Camp LeJeune, NC to Parris Island, SC.
She looks forward to working in Bluffton where she can further her practice while being close to the low country, family and Gamecock football.