Dental Implants
Palmetto Dental Arts can give you new teeth in just one day and your smile and confidence back for the rest of your life.
Dental Implants can really change your smile and your life in just one day.
Tooth loss is extremely common among adults, especially as we age. Rather than living with the discomfort and hassles of dentures, you can enjoy a more natural alternative by choosing dental implants provided by Palmetto Dental Arts.
Dental implants can replace one or more missing or damaged teeth with a permanent solution that leaves your smile looking 100% natural and allows you to eat the foods you love again – in as little as one day. So why wait any longer to regain your smile and self-confidence?
What are Dental Implants?
A dental implant is an artificial tooth root, typically a titanium screw, that is placed into your jawbone to hold a replacement tooth or a bridge or denture to restore multiple missing teeth. Contact Palmetto Dental Arts to help you decide if Dental Implants are right for you.
Dental Implants are a valuable alternative to an uncomfortable prosthesis. The implants themselves are small screws produced from titanium that serve a similar purpose to the roots of natural teeth. They are fused to the jawbone and support over dentures and dental bridges, helping them to perform as our natural teeth would. Once the implants are put in place, you'll be able to replace anything from one tooth to a whole set with ease.
Given the numerous benefits and aesthetic qualities Dental Implants offer, they have become the preferred method of tooth replacement today.
What are the benefits of Dental Implants?
Dental implants are widely regarded as the best treatment for loose dentures. Permanent dental implants are designed to make dentures much more secure and enable you to smile, eat and talk confidently. Palmetto Dental Arts can assist you if you have been thinking about investing in implants.
The implants act as a foundation for replacement teeth. They won't decay and are designed to last for the rest of your life. Implants can be used in conjunction with various dental procedures to improve our oral health. Once they are installed, you're much less likely to face problems with slippage and discomfort.
What are the steps for getting Dental Implants?
The initial step is to meet with Palmetto Dental Arts for a free consultation. At this consultation, the doctor and you will determine your needs, assess your oral health, review your medical history, and discuss treatment options in order to create a customized treatment plan just for you. We'll also discuss costs, financing options if necessary, and timing.
If you decide that Dental Implants are right for you and would like to proceed, next is a pre-procedure exam with Palmetto Dental Arts. This exam involves an X-ray or a 3D CT scan and may include taking models of your teeth to determine the ideal treatment for your condition. Fortunately, we have this technology in our office, so you won't have to visit another dental office. This exam can usually be completed in less than an hour. Once completed, you are ready to schedule your surgery.
On the day of surgery, you'll come to our office and begin by discussing the sedation options, which is the medication to help you relax or even sleep during the procedure. During the actual surgery, any teeth, if required, will be removed. Next, the actual dental implants are placed in the jaw bone. Then replacement teeth are secured onto the implants. It's important you know that you will leave the office with your teeth! This is why we can say "teeth in a day."
Following your surgery, there is a recovery period where the implants will need to heal and fully integrate with your bone and tissue before Palmetto Dental Arts can connect the permanent bridges or dentures. It will usually take between 3-6 months for the adjustment to be complete.
Who Typically Gets Dental Implants?
Those likely to benefit from Dental Implants include people who have been experiencing problems with conventional dentures or simply people who have lost as much as a single tooth. They make life easier for those that have been finding it difficult to chew and enjoy meals and can slow down the process of tissue and bone loss in the jaw.
What's more, is that Dental Implants can even provide a more youthful appearance due to the way that they will give your facial structure a lift. Furthermore, they will help you to speak more clearly.
What are the specifics for Teeth in a Day Dental Implants?
Traditional approaches to restoring a full arch of teeth usually involved six or more dental implants and as many as 18 months of treatment. This approach typically requires a patient who often would be without any teeth or with ill-fitting temporary dentures for more than a year.
This is not true at Palmetto Dental Arts. There are new and better techniques. You may have seen or investigated a few of these new techniques which are promoted under such brand names as: "All-on-Four®", Clear Choice®, "Teeth In A Day", "Teeth in an Hour", "Dental Implants in One Day", "Teeth In One Day", "Teeth In One Visit", and many other one-day implant treatment offerings of a full arch of replacement teeth.
Palmetto Dental Arts offers a wide range of dental implant solutions, including the All-on-4 procedure.
To learn more about the popular All-on-4 Dental Implants offered by Palmetto Dental Arts, click here.
What if I want to replace just a single tooth?
If you're missing just a single tooth, one implant and one crown can replace it. A dental implant replaces both the lost natural tooth and its root. Replacing one tooth with an implant-supported crown and preserve the integrity of all adjacent teeth and is superior to a traditional tooth-supported dental bridge.
What are the benefits of a 3D CAT scan?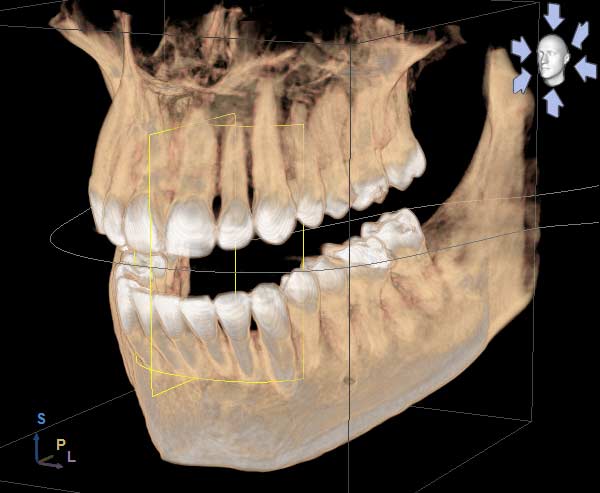 Palmetto Dental Arts offers an innovative, state-of-the-art dental center designed to deliver exceptional patient care using the most advanced technology available, which includes a Cone Beam Scanner. Only a few practices in the region have this machine in their offices. The scanner provides pristine, 3D images of the jaw and mouth areas needed for dental implant surgery. As result, our doctors are able to visualize both hard and soft tissue areas for a more thorough, comprehensive examination and better preparation.
If you are interested in dental implants, get in touch with us today to arrange a consultation. We will speak to you in depth about your dental history, your requirements and concerns and explain all your treatment options to you so can come to an informed decision. Call today to find out more about our dental implant services.
Find out if you're a candidate for dental implants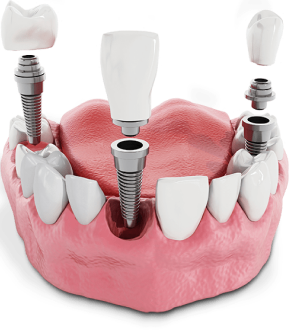 Answer The Following Questions To Learn More About Our Pricing And Financing Options.