LANAP Laser Treatment
No cutting. No stitches. Faster healing times.

LANAP Laser Treatment is the only scientifically, research-proven methodology that results in true periodontal regeneration.
Palmetto Dental Arts is one of the first practices in the area to offer the FDA-cleared laser treatment called the LANAP protocol. LANAP provides a less painful, more successful treatment alternative to conventional surgery to treat periodontal (gum) disease and save many teeth that were previously considered hopeless.
Unlike traditional surgery that requires cutting and stitches, a laser light is used to gently remove harmful bacteria and diseased tissue from the gum pocket. This allows the body to heal naturally so that gum pockets improve and the teeth become more stable.
Schedule your exam today.
843-790-7211
About LANAP Laser Treatment
What is LANAP Laser Treatment?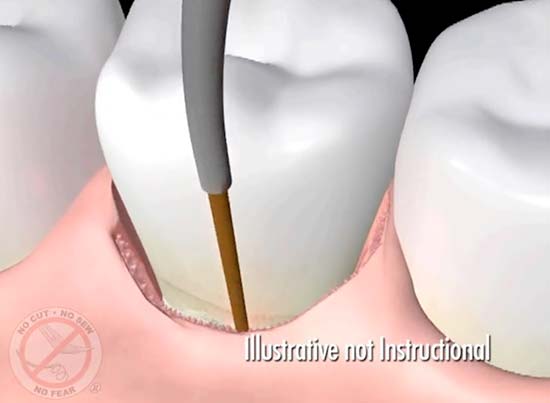 LANAP Laser Treatment is the only scientifically, research-proven methodology that results in true periodontal regeneration, which means new bone growth and gum tissue reattachment.
This treatment is one of the most successful protocols in treating gum disease because it can target the source of the inflammation without hurting or removing any healthy gum tissue, slow or stop attachment loss, and allowing the body to recover from the chronic infection without the need for scalpel or sutures.
What are the benefits of LANAP Laser Treatment?
The LANAP protocol is the only laser gum disease treatment FDA cleared for True Regeneration. Simply put, the LANAP protocol can re-grow the tissues and bone lost to gum disease. Fear of periodontal treatment also tends to vanish when patients find out no scalpel or sutures will be used. Further patient benefits are as follows:
Less pain
Less bleeding
Less sensitivity
Less gum loss
Less swelling
Very little downtime after treatment
Less Post-op infections
Promotes regeneration of supporting gum tissues
Healing is perceived to be faster and more comfortable than conventional surgery
Does LANAP Laser Treatment hurt?
Although the procedure itself can be virtually painless, your doctor may anesthetize the area for your comfort. In this way, the doctor can precisely direct the laser for treatment. Post-procedure discomfort is typically minimal and of short duration.
How does the LANAP Laser Treatment work?
The LANAP protocol is performed in Palmetto Dental Arts' office under local anesthesia. Prior to the procedure, your doctor does a periodontal charting and takes X-rays to make a paper diagnosis and determine the extent of the disease syndrome. A tiny laser fiber (about the thickness of three human hairs) is inserted between the tooth and the gum, and the infection and disease are cleared away without cutting the gums.
The tooth roots are then thoroughly cleaned of tartar and plaque, and the laser is used again with a different setting to create a stable, firm fibrin blood clot to seal the pocket. Your doctor treats one-half of your mouth at each session, and most patients are able to drive themselves back to work or home following the procedure. Your doctor will likely recommend a soft diet for several days, but in most cases, patients feel well enough to eat their typical diet soon after the procedure.
Who is a good candidate for the LANAP Laser Treatment?
Patients with moderate to severe gum disease can especially benefit from the LANAP protocol. The LANAP protocol is also an excellent treatment option for patients who are fearful of conventional scalpel surgery.