Full Mouth Rehabilitation
Rebuilding a smile with a perfect bite provides ideal results and long-lasting, long-term health for your mouth.
Full Mouth Rehabilitation corrects imperfections in bite position and enhances the appearance of the smile.
Anyone with short, worn teeth or teeth that are chipped and broken throughout the mouth is an excellent candidate. Combining the science of ideal harmony of the muscles, joints and teeth with the artistry of cosmetic dentistry, full mouth rehabilitation creates a smile that is functional, comfortable and beautiful.
We invite you to call Palmetto Dental Arts for a consultation if you fall into this category because you could be an ideal candidate for a full mouth rehabilitation.
About Full Mouth Rehabilitation
Even if you haven't been to the dentist in a decade and nearly every tooth needs attention, Dr. Smith, Dr. Blanton, Dr. Moorefield and our expertly trained staff can restore your smile in one visit, in one day. Rebuilding a smile with a perfect bite provides ideal results and long-lasting, long-term health for your mouth. Essentially, we give you a clean slate by rebuilding your bite. We will help you get your periodontal disease under control, repair your cavities and provide you with perfect restorations to create a smile that turns heads. The self-confidence? That's free.
Your first step is to have a complete exam including digital radiographs and photographs, a periodontal exam and an occlusal exam. From this information, our dental team can begin to discover the possibilities for your new smile. By viewing the photographs, the positions of the teeth can be evaluated. How much do the teeth show when the lips are at rest? How much do they show at a full smile? What is the position of the teeth relative to the lips? Do they stick out too far or are they tucked in too much? Is the periodontal architecture balanced? Are there black triangles of space between the teeth where the gums have receded? Are the proportions of the teeth appropriate? These questions and evaluations begin to create a list of changes that aid in the design process.
After gathering all of this information, we can begin to make changes on a duplicate set of your teeth on mounted models in wax, called the wax-up. These three-dimensional prototypes allow our team to see how these changes will actually function in the mouth. This becomes our architectural template to outline how treatment will proceed and your temporaries will be fabricated from these waxed teeth.
Now a predictable plan is designed, and you and our team can have a vision of what the intended results will be before any treatment is started. Although additional modifications will be necessary as treatment begins, durable, predictable care starts with a well-designed plan.
Find out if you're a candidate for dental implants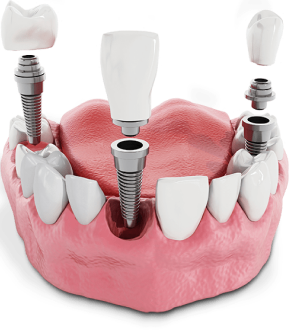 Answer The Following Questions To Learn More About Our Pricing And Financing Options.