Dr. Brian Smith
Bluffton dentist, Dr. Brian Smith approaches each patient with the goals of providing maximum comfort and ideal function. This accomplishes a natural, beautiful appearance and long-term dental stability. His philosophy is based on achieving and maintaining complete oral health – the harmonious function of the teeth, supporting structures, muscles and joints.
Once these four areas are balanced, ideal form is discovered and aesthetically-pleasing smiles are developed that are both functional and beautiful – smiles that are attractive but also work like natural teeth. This way of practice also offers you the option of comprehensive treatment solutions that enable us to be proactive with your dental care instead of reactive.
Dr. Smith graduated from the Medical University of South Carolina College of Dental Medicine in 1998. He then completed a general practice residency focused on implant, cosmetic and restorative dentistry at Palmetto Richland Health Systems in Columbia, South Carolina. In 1999, he founded Palmetto Dental Arts, PA a Bluffton cosmetic and implant dentistry practice.
He has made a commitment to continuing education to directly benefit his patients. He continued his training at the Pankey Institute for Advanced Dental Education, the Dawson Center for Advanced Dental Study, and the Spear Institute, three of the most well-known and respected advanced dental teaching centers in the world. In addition, he also attends multiple other continuing education courses on the state and national levels.
Dr. Smith and his wife Amy have lived in Bluffton since 1999. When Dr. Smith is not in the office, his time is spent with Amy and their four children: Laney, Isabelle, Harrison and Brinkley.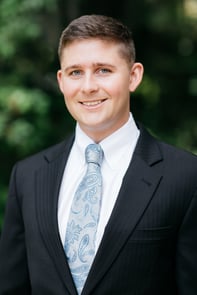 Dr. Christopher Blanton
Christopher Blanton grew up in Aiken, SC, with an older sister and younger brother. He attended Clemson University for his undergraduate education and received a Doctorate of Dental Surgery degree from Indiana University School of Dentistry in Indianapolis. Following graduation, he completed the Charlie Norwood VA AEGD residency program in Augusta, Ga. In this residency, he provided emergency and comprehensive oral health care and received advanced training in dental implants, oral surgery, and IV conscious sedation. Through his work at the VA, Dr. Blanton realized that dentistry could change your life story.
Dr. Blanton is committed to remaining current in the ever-evolving field of dentistry so that his patients can benefit from the latest technology, procedures, and materials available. He is an active member of the American Dental Association and South Carolina Dental Association, working towards a Fellowship in the International Congress of Oral Implantologists and a fellowship in the Academy of General Dentistry.
Dr. Blanton enjoys fishing, hiking, and playing soccer when he's not in the office.
Dr. Kallie Moorefield
Dr. Moorefield received her Bachelor of Science in Biology at Louisiana State University in Baton Rouge and then went on to get her Doctorate of Dental Surgery at Louisiana State University School of Dentistry. Her specialties include restorative treatments and Invisalign.
In her free time, Dr. Moorefield loves to paint. After some years up north, she is excited to be back down south to enjoy year-round beach days with her three beautiful daughters.
Dr. Adam Wolters
Born and raised in Dayton, Ohio, Dr. Wolters attended the University of Dayton for an undergraduate degree in Psychology before attending Ohio State University for his Doctorate of Dental Surgery.
Upon completing his degree, Dr. Wolters was commissioned into the U.S. Navy. He immediately began a General Practice Residency at Balboa Medical Center in San Diego, focusing on advanced surgical procedures, endodontics, and medically complex patients. This residency allowed Dr. Wolters to expand his treatment abilities beyond his initial training, gaining experience while working side-by-side with specialists in each field.
Dr. Wolters has been stationed aboard the USS Comstock, MCAS Beaufort, and MCRD Parris Island following his residency. The privilege of treating active duty service members, and heavy emphasis on digital dentistry, have allowed him to refine his skill set and provide more effective treatment to his patients.
When not working, he spends his days with his beautiful wife, two young daughters, and their two dogs.
Dental Office
347 Red Cedar St., #400
Bluffton, SC 29910
Office Hours
Mon: 7AM – 5PM
Tue: 7AM – 5PM
Wed: 7AM – 5PM
Thu: 8AM – 5PM
Fri: 7AM – 4PM
Sat-Sun: Closed