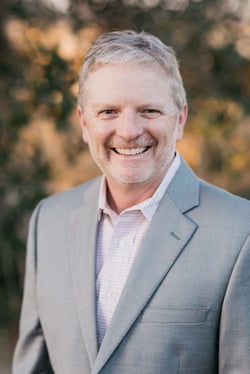 Bluffton dentist Dr. Brian Smith approaches each patient with the goal of providing maximum comfort and ideal function. This accomplishes a natural, beautiful appearance and long-term dental stability. His philosophy is based on achieving and maintaining complete oral health – the harmonious function of the teeth, supporting structures, muscles and joints. Once these four areas are balanced, ideal form is discovered and aesthetically-pleasing smiles are developed that are both functional and beautiful – smiles that are attractive but also work like natural teeth. This way of practice also offers you the option of comprehensive treatment solutions that enable us to be proactive with your dental care instead of reactive.
Dr. Smith graduated from the Medical University of South Carolina College of Dental Medicine in 1998. He then completed a general practice residency focused on implant, cosmetic and restorative dentistry at Palmetto Richland Health Systems in Columbia, South Carolina. In 1999, he founded Palmetto Dental Arts, PA a Bluffton cosmetic and implant dentistry practice.
He has made a commitment to continuing education to directly benefit his patients. He continued his training at the Pankey Institute for Advanced Dental Education, the Dawson Center for Advanced Dental Study, and the Spear Institute, three of the most well-known and respected advanced dental teaching centers in the world. In addition, he also attends multiple other continuing education courses on the state and national levels.
Dr. Smith and his wife Amy have lived in Bluffton since 1999. When Dr. Smith is not in the office, his time is spent with Amy and their four children: Laney, Isabelle, Harrison and Brinkley.